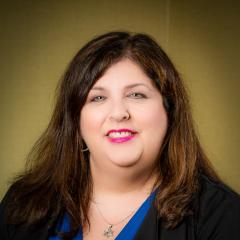 Stacey Berliner
Placement Administration / TMP and JLicense Customer Support
Hours:
M - Th: 8:30am - 5pm CT; F: 8:30am - 4pm CT
(Winter hours until 3:30pm)
Stacey Berliner joined the ACC in December 2015 to work with the Director of Placement and as Customer Support for Transcontinental Music Publications and JLicense. Stacey's many years of customer service experience has served her well in this newly established role. Stacey grew up going to Temple Sholom in Chicago, IL, and is a member of Congregation B'nai Jehoshua Beth Elohim in Deerfield, IL. She enjoys traveling and always looks forward to the ACC conventions in different cities. She can also be counted on to dog sit for friends, whether it is for a night or for a week.