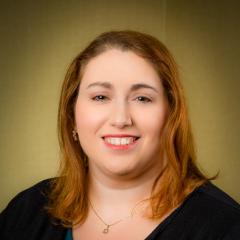 Cantor Rebecca Moses
Vice President of Professional Development, External Policy & Placement
Cantor Rebecca Moses joined TSTI in July 2012. She was ordained as Cantor in 2009 by the Hebrew Union College-Jewish Institute of Religion, Debbie Friedman School of Sacred Music in New York City, where she received her Master's Degree in Sacred Music in 2008. She holds a Bachelor of Music Degree in Vocal Performance from the University of Missouri-Kansas City Conservatory of Music. Cantor Moses currently serves on the Executive Board of the American Conference of Cantors.
Prior to becoming part of the TSTI community, Cantor Moses served for three years as Cantor-Educator at Temple Anshe Sholom in Hamilton, Ontario. Before ordination, Cantor Moses enjoyed a career in professional and community theatre. She enjoyed playing favorite roles in such beloved shows as Annie, Jekyll and Hyde, Into the Woods, Hank the Cowdog, Hershel and the Hannukah Goblins, the Phantom of the Alamo,  and many many more with companies across the country, but most especially with her mother's theatre company, the Beth-El Players!
She has served as a presenter for both Hava Nashira, the URJ's premiere song leading training, and for the URJ. She has served in several different leadership roles within the American Conference of Cantors, and is the incoming Secretary of the Executive Board and winner of the 2022 President's Award for Volunteerism.
She resides with her husband Aaron, daughter Alexandra, and son Levi in West Orange.