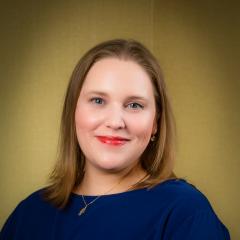 Cantor Mary Rebecca Thomas
ACC Director of Placement
Hours:
To schedule a conversation, visit Cantor Thomas' Calendly:
https://calendly.com/accantorplacement
Cantor Mary Rebecca Thomas was ordained in 2011 from the Hebrew Union College-Jewish Institute of Religion, Debbie Friedman School of Sacred Music. She has served Temple Beth El in Charlotte, NC since ordination.
While at HUC-JIR, Mary was awarded academic prizes in Jewish religious thought, composition, creative worship leadership, and significant contributions to the school community. She served as Cantorial Intern at Union Temple of Brooklyn and Temple Israel of New Rochelle. Mary completed her Cantorial Thesis, "Inward, Outward, and Upward: The Postmodern Shaliach Tzibbur," in which she applies the theology of Rabbi Eugene Borowitz to prayer leadership. She completed her undergraduate work in History and Jewish Studies at Rutgers University, graduating with honors.
Mary was instrumental in establishing The Porch, Temple Beth El's Young Adults and Families with Young Children Community. She is the co-author of a chapter in The Sacred Calling: 40 Years of Women in the Rabbinate. She has served on the Board of MeckMIN, a local interfaith network, is in fulfilling her second term on the ACC Executive Board, and her sixth year as co-chair the ACC's CCPD committee. She is passionate about Jewish history, music, worship, and helping to build the community within which people can lead meaningful fulfilling lives, engaged in Jewish tradition.
Mary is spouse to Matthew and mother to Johannah and Ezra.
To schedule a conversation with Cantor Thomas, click here.