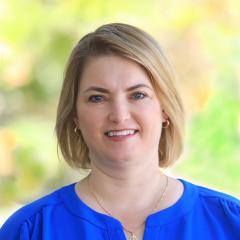 Cantor Julie Berlin
Cantor Julie Berlin (she/her) was born and raised in Flossmoor, Illinois, first finding her love for Jewish music in her Temple's choir as a young girl. After studying voice and piano as a teenager, she studied at the University of Illinois where she earned a Bachelor of Science degree in Music Education. During her undergraduate studies, she also served as a student teacher in music at several elementary and Jr. High schools in the Chicago area.
Cantor Berlin began her studies at the Hebrew Union College-Jewish Institute of Religion (HUC-JIR) in Jerusalem in 1992 and continued at the New York campus in the fall of 1993. She served as student Cantor in two Pennsylvania congregations, Temple Ohev Sholom in Harrisburg, and Anshe Hesed Congregation in Erie. While studying at HUC-JIR's School of Sacred Music, she also enrolled in the college's School of Education. She earned a Master's of Arts in Sacred Music and was ordained as Cantor in 1996, and earned a Master's of Arts in Religious Education in 1997. While completing her education degree, she also worked as a Cantor/Educator at Temple Israel in Manhattan.
Cantor Berlin served as cantor of Temple Solel in Paradise Valley, Arizona from 1998 to 2008. She has began her tenure as Temple Beth-El's cantor in 2008. Cantor Berlin serves the greater San Antonio community as well by serving on the Holocaust Memorial Museum of San Antonio Commission as well as the Youth Orchestras of San Antonio (YOSA) Board. She is also an active volunteer and leader of the American Conference of Cantors, currently serving on its Board of Trustees.
Cantor Berlin and her husband, Rabbi Alan Berlin, are the proud parents of three young adults.