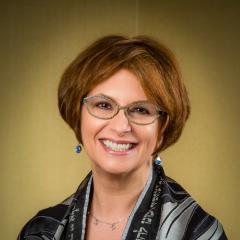 Cantor Deborrah Cannizzaro
Vice President of Member Relations & External Partnerships
Cantor Deborrah Cannizzaro has served Congregation Schaarai Zedek in Tampa, Florida, since 2013, and is only the second cantor in the Congregation's 127-year history.  She oversees worship, music and b'nei mitzvah education, and serves the congregation alongside two rabbinic colleagues.
Previously, Deborrah served Isaac M. Wise Temple in Cincinnati, Ohio, from 2003-2013. She received her Cantorial Certification from the Hebrew Union College-Jewish Institute of Religion Debbie Friedman School of Sacred Music, in June, 2009, and holds music degrees from the University of Miami, and Chicago Musical College. Prior to entering the Cantorate, she was a successful concert recitalist and opera singer, performing with, among others, the Pittsburgh Opera, Pittsburgh Symphony Orchestra, Kol Zimrah -The Jewish Community Singers of Chicago, and Southwest Florida Symphony Orchestra.
Deborrah has served on the Executive Board of the American Conference of Cantors since 2015, when she was elected as Board Secretary.  She has facilitated classes at ACC conventions, written for the Notes Worth Knowing segment on the ACC website, and was the liaison between the ACC and the Union of Reform Judaism for Ten Minutes of Torah. Deborrah has also taught workshops for the Women Cantors' Network. She is a Past President of the Bay Area Cantors Association.
Deborrah loves anything to do with technology, video production, photography, and digital art.  She lives in Tampa, Florida, along with her partner, Miles, and her two grown sons.