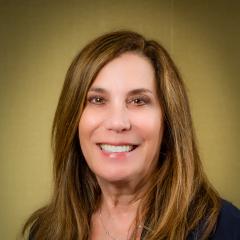 Deb Greenswag
ACC and GTM Operations and Administration
Deb Greenswag joined the ACC with over 15 years of experience in the synagogue and Reform Jewish world. 
Deb received her BA in Journalism from the University of Iowa. She has been a member of the Chicago Area Synagogue Administrators (CASA) and the National Association of Temple Administrators (NATA). She is a CASA volunteer (Court Appointed Special Advocate) and advocates for the best interests of children who have been abused or neglected.
Deb's operational work for the ACC includes being the primary contact for the ACC travel, meetings, and conventions; overseeing and facilitating communications; managing the ACC and GTM database operations; and primary staff liaison to the Guild of Temple Musicians. 
Deb grew up in the northern suburbs and currently lives in Buffalo Grove with her husband, Rick. They have three children Jeff, Sarah (Travis) and Amy, and their grandchildren, Henry Lewis, Frances Bell and Ruby Ellis. She enjoys travelling, reading, knitting, weaving, camping and spending time with her family and friends.