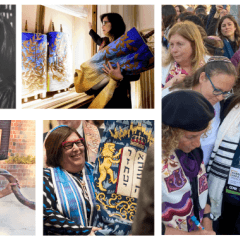 CCAR TASKFORCE ON THE EXPERIENCE OF WOMEN IN THE RABBINATE: 'THE CLERGY MONOLOGUES' VIDEO
May 1, 2023
"The Clergy Monologues" video is a teaching tool designed to highlight ongoing gender bias in Jewish spaces.
This video, together with its accompanying discussion guide, is a ready-made program for leadership groups, synagogue boards, youth groups, and the community at large to explore and address both the overt and subtle bias that still exists toward female-identified clergy in our most sacred institutions. This video highlights and gives voice to real stories from rabbis and cantors. With the exception of Rabbi Sally Priesand, who reflects on her own career as the first woman rabbi ordained by a North American seminary, the rabbis and cantors in this video are reading stories submitted by their clergy colleagues.
This video is a project of the CCAR Task Force on the Experience of Women in the Rabbinate, with support from WRN, WRJ, RPEI, and the ACC, as well as additional funders.
A companion video, "The Educator Monologues," which addresses gender bias that Jewish educators experience, is also available, along with discussion questions.