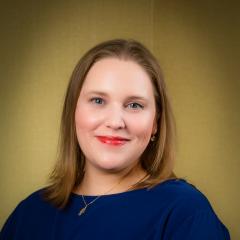 ACC welcomes Cantor Mary Rebecca Thomas as Director of Placement
August 25, 2023
The ACC welcomes Cantor Mary Rebecca Thomas as she begins her tenure as our new Director of Placement today.
We wish Cantor Kay Greenwald well in her retirement and thank her for her many years of service. We look forward to seeing her at future meetings and events!
Dear colleagues,
I am so grateful for the opportunity to serve as Director of Placement for our beloved Conference. 
As a congregational cantor, my greatest joy was to help congregants build community and find "their people." For 12 years, it was my priority first and foremost to foster real, tangible, community through careful listening and connection-making. Simply put, the thing I loved most about being a congregational cantor was helping people find the people with whom they could live their Jewish lives. I hope to leverage this experience to help you find your next congregational home.
As Director of Placement, I aim to listen with curiosity. I am listening to understand your professional hopes and dreams, to learn what your passions are, and what keeps you up at night. I will listen to get a sense of the kind of work environment where you would thrive, or what type of rabbinic partner would most inspire you. I will listen for where you might feel most at home. For our congregations seeking cantors, I will also work to gain a sense of who they are, their staff and lay culture, and what makes their community unique. Through this deep listening, I hope to help congregations and cantors find the very best fit possible for your shared sacred work. 
If you're considering placement in the coming years or you'd like to let me know where you dream to be, I would love to talk. Schedule a conversation here. I can't wait to speak with you.