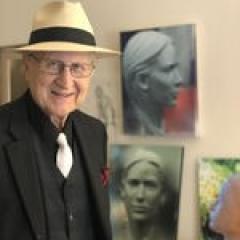 Cantor Sheldon Merel, z'l
Cantor Sheldon Merel, husband of Marcie Merel, passed away Saturday morning, July 10. He leaves behind:
Children Joshua (Pamela), Daniel and Judith,
Grandchildren Jessica (Shaun), Jesse, Emily,
Great-grandchildren Benjamin and Elon
Brother-in-Law Steven (Nancy)
Nieces Stacy (Ron) and Eliana (Mackenzie)
Cantor Merel was born in Chicago in 1924, and music was part of his upbringing. His father played the harmonica and mandolin and had a very pleasant voice. He entered City College of New York (CCNY) with a major in engineering, but his plans changed suddenly when the United States entered World War II. Cantor Merel applied to the New York State Maritime Academy and became a third-class engineer as an ensign in the United States Maritime Service.
After the war, Cantor Merel returned to CCNY and transferred to the business college. However, he decided to pursue his love of singing, and at 21, he took his first formal musical instruction. Cantor Merel's first real job in music was in the Catskill Mountains, where he performed as a singing master of ceremonies. In 1949, Cantor Gershon Ephros encouraged him to enter the newly created School of Sacred Music, Hebrew Union College – the first school to train cantors in the United States – from which he graduated in 1952 as a cantor/educator.
Cantor Merel touched the lives of 1,000s of families in the United States and Canada as he held pulpits in South Bend, Indiana as well as Chicago and Oakland, California. In 1969 he became cantor at Holy Blossom Temple.
During his 11 active years at Beth Israel, Cantor Merel presented an annual Friday evening orchestral Shabbat with David Amos and the Jewish Community Center Orchestra. He also arranged performances of the temple choir and a different church choir each year, featuring orchestral compositions by Jewish composers.
Under Cantor Merel's direction, Beth Israel held an annual Composer-in-Residence Weekend with leading Jewish composers. The composers gave lectures and presented their music with choir and instruments, together with commentary. The congregation was able to hear new and exciting music and meet the composers in person.
Cantor Merel has been recognized and honored for his many contributions to music far beyond cantorial music. In 1998, the School of Sacred Music, Hebrew Union College - Jewish Institute of Religion honored Cantor Merel with a Doctor of Divinity Degree.
Also in 1998, his CD, Standing Ovation, produced and edited by Marcie Merel, was released with selected recordings captured live-in-concert over 28 years. In 2010, he gifted his second CD Chants of a Lifetime, to Beth Israel. Upon his retirement in 1991, Cantor Merel became cantor emeritus of Congregation Beth Israel (CBI). Sheldon was an accomplished sculptor.
His cantorial contributions to Beth Israel's High Holy Days services and other events continued well into his retirement. CBI was delighted in the celebration of his second bar mitzvah at age 83 at a Friday night service in 2007 and moved by his Birkat Kohanim at last year's High Holy Days.
May his memory be a blessing.
Daniel Merel
Joshua Merel
Judith Merel