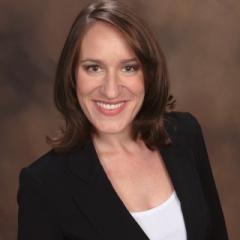 Cantor Faryn Rudnick Awarded 2023 ACC President's Award for Volunteerism
Every year, the ACC President's Award for Volunteerism is presented to a member who has demonstrated an outstanding level of service and commitment to the American Conference of Cantors. The 2023 ACC President's Award for Volunteerism has been presented to Cantor Faryn Rudnick of Main Line Reform Temple-Beth Elohim and a member of the ACC Executive Board.
Cantor Rudnick is passionate about creating community, specifically for those with disabilities. She is an advocate for those with other abilities and ensures the ACC participates in annual Disability Awareness programs across our Movement and the greater Jewish community. She is the co-chair of our professional development committee, and an active member of the ACC-GTM San Diego Convention program committee.  Cantor Rudnick served as co-chair of the Tefilah committee for the Philadelphia convention, and has served as a presenter at several ACC conventions as well as a guest presenter on inclusion advocacy and inclusive worship for the CCAR and URJ. Cantor Rudnick is a past-President of the Reform Cantors of Chicago and helped to reestablish the Reform Cantors of Philadelphia five years ago.
In 2015, Cantor Rudnick was the co-recipient of the Chicago Federation's Annual Samuel A. Goldsmith Award for her work in the field of inclusion. She has represented the American Conference of Cantors on the Jewish Disabilities Network and works with many organizations nationally to make the Jewish community a community of belonging for all people. Currently, Cantor Rudnick is a member of Philadelphia's Jewish Disability Inclusion Consortium.
Cantor Rudnick received cantorial ordination from the Debbie Friedman School of Sacred Music at Hebrew Union College-Jewish Institute of Religion in 2013.
Cantor Rudnick holds a Bachelor of Music in Music Education from Miami University (OH) and received her first master's degree in music education from Montclair State University. Prior to Cantorial School, Cantor Rudnick was a tenured teacher in the Oakland Public School District in NJ. She is married to Jack Rudnick, and they are the proud parents of Hannah (6) and George (3).