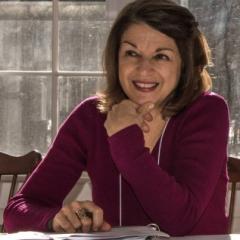 ACC Spotlight: Cantor Meredith Stone
Cantor Meredith Stone, Congregation Emanu-El of Westchester
Tell us more about your Jewish upbringing. Where did you grow up?
Quincy, Massachusetts, where I grew up, was at the time predominantly Irish, white and frankly, bigoted, so I really felt like a minority. My family attended the Conservative temple and kept kosher. It was clear to me that my parents cared deeply about Judaism. Our hazzan made me a record (LP!) of the entire Haftarah, which I diligently learned, hunched over the "hi-fi" for my Friday night Bat Torah.  Girls were not allowed to read from the Torah or have a Saturday morning Bat Mitzvah.  
Though I belonged to USY and went on a USY Israel pilgrimage, for me, being Jewish had a lot to do with being different and following rules. I made sure to select a college where there were lots of Jews and a strong Judaic studies department. After all, I was basically a good girl, and wanted to understand why Judaism was so important to my family.
You received a Master's in voice from the University of Southern California. What led you on this path? What were your career goals at the time?
While I was an undergraduate at Brown, I decided to pursue the cantorate and planned to matriculate at HUC after graduating. I was firm in my intention to become a cantor. But I loved singing so much and yearned to do it more seriously.  During Passover spring break in Los Angeles, I met the director of the opera department at USC. We hit it off and she urged me to spend a couple of years immersed in her opera department. HUC was very accommodating when I asked if I could defer my admission for two years. As soon as I got my Master's in voice, I moved to New York to start my cantorial studies. 
How did you end up choosing the cantorate?
My older brother, Warren, who was ordained as rabbi from HUC when I was in college, suggested it to me. I wouldn't have otherwise known that women were becoming cantors, and I realized it was a great idea. I was majoring in music, had studied voice and violin for years, so my musical skills were strong. I also had a decent Hebrew background (thanks to those dull years of 3x/week Hebrew school!) and had taken some inspiring Judaic studies classes in college. Serving the Jewish community could be a wonderful way to utilize these talents. Though I grew up Conservative, my strengths and creative inclinations were better suited to Reform Judaism, and I have never looked back.
You have been the cantor at Congregation Emanu-El of Westchester since 1985. Beyond the cantorial duties such as leading worship, teaching and directing choirs, you have introduced and created a variety of innovative and unique programs. Tell us more.
I was once in danger of burning out in my job. So gradually, and especially with the advent of a young rabbi, I re-invented almost everything I do. Some ideas I've dreamed up myself; others I've picked up along the way.
I evolved from traditional B'nai Mitzvah tutoring to a simple, fast paced, round robin styled "B'nai Mitzvah Boot Camp" with better results in less time. 
The innovations I'm most proud of involve the Women's Study Group I co-founded two decades ago. I started making our gatherings more personal, giving people opportunities to tell their stories. As a result, relationships deepened and our once buttoned-up Classical Reform congregation began to transform. The women's group became a safe and fertile creativity lab for me to try new things.  Aspects of contemporary culture combined with my personal interests provide constant fodder for our holiday gatherings and annual theme- based retreats. Every program incorporates learning, sharing and doing.
A few examples of hands-on projects related to themes of some of our retreats include "tikkun olam" mirrors made out of cd shards (Creation and Creativity retreat), glowing lace luminaries (Metaphors for God), and midlife journals (Women in Midlife).  We've brought things to "re-gift" at a retreat on Letting Go and Moving Forward, and I once led a workshop for "recovering perfectionists."   At our annual women's seders we've done everything from painting signs for the March for our Lives, combined with text study on women upstanders, to traipsing through the "Red Sea" of our parking lot, to writing personal vignettes related to each part of the seder. We've crafted blooming branch centerpieces and I created a seder completely inspired by the pop culture book, "The Life Changing Magic of Tidying Up." 
My "Reflections" Workshop also builds on the theme of deepening connections with one another by sharing our stories. Several times a year, intimate groups come together to write short personal passages and turn them into introductions to prayers, which they later present at services. 
Along the same theme of sharing stories was my suggestion to have congregants prepare a few words about a deceased loved one, which they read for the congregation before Kaddish. During the High Holy Days last year, I made boxes into which congregants could anonymously "submit" their sins, which the rabbi and I then crafted into a communal prayer for Yom Kippur.  
What do you love about being a cantor?
At first, I simply loved the singing and music, as that was what being a cantor was all about.  These days l have found additional gratification in working along with my rabbi to find new ways to make Judaism meaningful, to reach people on a human level and enhance the quality of their lives.  I love the relationships with both congregants and staff that have developed over 32 years in the same job, and I love being able to share life's great joys and sorrows. I still feel honored and humbled that my singing, a few words, or my mere presence can be a comfort to people and make them feel connected to Judaism.  In a time when the Jewish community faces many challenges, I enjoy the freedom the Reform Movement affords us to make Judaism vibrant, fun, and relevant to real life. 
An accomplished soprano with a broad range of professional credits as soloist in opera and oratorio, you have also been the recipient of many fellowships and you have won several prizes and competitions. Share with us some of the highlights.
I was very motivated to apply for vocal fellowships so that I could get out of sweltering NYC during summers off from HUC! One of the best of these was an all expense paid summer in Italy, studying opera roles with a maestro from La Scala opera house. I also treasured my idyllic summers as a vocal fellow at the Tanglewood and Aspen festivals. Later, I got an agent for opera and soloist jobs, including  Papagena with the Baltimore Opera, Mahler's second symphony with orchestras in Alaska and Colorado, and the American premiere of a Berlioz work at the National Cathedral in Washington.  A special perk was singing the role of "Nedda" in I Pagliacci for three summers in New York City parks. The conductor became my husband and father to our brightest highlights, Mirit and Lila.
What are your goals moving forward? 
I want to continue to find ways to engage the congregation, build community, and further deepen my bonds with my congregants. Flexing my creativity is what keeps me going, so I want to do more of that. With our long-term educator retiring soon, I look forward to the energy and ideas that a newly ordained rabbi/educator will bring, and collaborating with her.
What do you do in your spare time?
I've reclaimed my childhood passion for art projects and revel in any opportunity to work with my hands, from watercolor journals to figure drawing to painting on wine glasses, to my current obsession, creating designs on stones, lots and lots of them.  I also have a penchant for rearranging my friends' living rooms. Recently I've been attempting to amp up the exercise with Pilates and Chi Kung in order to keep my body from falling apart. I also enjoy reading novels and op eds, and doing the New York Times crosswords.  One day I hope to get beyond the Wednesday puzzle.