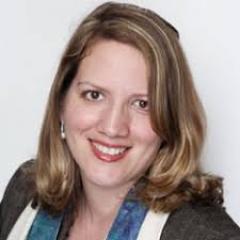 ACC Spotlight: Cantor Lonee Frailich
Cantor Lonee Frailich of Temple Akiba of Culver City
Tell us about your Jewish background.
I grew up attending University Synagogue, a Reform Congregation in Brentwood, CA. I was active in my dad's Junior Choir – Hasharim and loved attending Shabbat services almost every week. I was lucky to have a strong Jewish foundation in my early years through my parents, my Synagogue and through Temple Emanuel Jewish Day School. I continued my Jewish education at Temple Beth Hillel through the Havarat Noar and Hebrew High School programs run by the Bureau of Jewish Education (BJE). I attended the BJE's Ulpan program and travelled to Israel with 168 other kids my age for the summer between my junior and senior year of High School. I was active in the Hillel at UC Santa Barbara and helped found the Jewish Sorority on campus AEPhi. After college, I taught Religious School, worked at Hillel at various Los Angeles campuses and was a Cantorial Soloist before my ordination in 2011.
You're a second generation cantor as your father, Cantor Emeritus Jay Frailich, served as the Cantor at University Synagogue in Brentwood, CA for 40 years. How has this influenced you as a person and as a cantor?
My dad and mom had a tremendous influence on me as a person and as a Cantor. I grew up watching my dad in awe as he sang on the bimah each week. He was so happy and content with his career. I knew that not everyone was fortunate enough to love their jobs and I wanted to find a career that would be fulfilling in the same way my dad's was. His humor, easy going manner, intelligence, warmth and passion for Judaism made him a beloved man at University Synagogue. I try and bring those same attributes into my role as Cantor at Temple Akiba. He, along with Cantor Perryne Anker, my voice coach of over 25 years, have been my mentors throughout my journey to becoming a Cantor and in my pulpit. I've learned so much from their positive attitudes and wonderful guidance.
Both of my parents are true mensches. I am so lucky to have two incredible role models that have guided me in every way in my career and as a parent.
Share with us the journey that led to you becoming a cantor?
My journey to becoming a Cantor began at University Synagogue as a young child. I loved coming to Temple each week and talking with the congregants, hearing my dad sing, singing in the children's choir, watching him tutor B'nai Mitzvah kids, and of course enjoying the Oneg! Singing in my dad's children's choir and participating in our Synagogue's yearly musicals helped develop my love of Jewish and secular music. The BJE programs further cemented my love and passion for Judaism.
I always knew that I wanted to become a Cantor one day but I wanted to make sure it was something I was doing for myself and not for my father. So I decided to take a different path after graduating from UC Santa Barbara and began working for the Hillel organization in Los Angeles and Internationally. I loved working for the Jewish community and treasured my time engaging students in Jewish life. I received a Master's Degree in Jewish Communal Service at HUC-JIR, Los Angeles campus and went on to become a Director at Santa Monica Hillel and the Assistant Director of the Los Angeles Hillel Regional Center. After a number of years, I realized I missed Synagogue life, I missed teaching and I missed singing regularly. I realized it was time to turn to the career that had been calling out to me for so long and begin my official journey to become a Cantor.
I applied to the Cantorial program at the Academy of Jewish Religion, CA and began my studies in 2005. Rabbi Zachary Shapiro worked as the Assistant Rabbi at University Synagogue with my dad for 8 years. As I was beginning my Cantorial studies, he had just begun a new job as the Rabbi at Temple Akiba. He asked if I could help him put together a new service for the Temple and do a few hours of tutoring. That experience turned into an internship which eventually led to a full-time job at Temple Akiba upon my ordination.
You became Temple Akiba's first ever full-time cantor in 2011. What are some initiatives that you've started of which you're especially proud?
When I first started working for Temple Akiba, Rabbi Shapiro, our music specialist and I put together a new type of service that the Synagogue had not been exposed to, our Kabbalat Shabbat services. We brought services out of our Sanctuary and into our social hall to allow us to have our service in the round. We do the service almost entirely in song, with a few guitars, piano, dobro, harp and drums accompanying us. What began as a service done a few times a year, grew into our most successful monthly Shabbat services.
I'm extremely proud of a Shabbat program that I began a few years ago. Shabbat Nefesh is a monthly Shabbat program featuring a different theme or special guests to help lead the service. After 10 years of our Kabbalat Shabbat program, I wanted to expand on its success and engage a new generation of people to get excited about Shabbat. Some of my favorite of these services has been a Shabbat of duets with myself and my father, a Shabbat featuring music of the Golden Age of the Cantorate with opera singer Audrey Babcock, Shabbat with guest Cantor Rebekah Mirsky, and our entertaining themed Shabbats including Folk, World, Beatles, Broadway, Motown and Simon and Garfunkle services. Because of this program, attendance at our services is often standing room only.
I am also very proud of the children's music program that I created. I began the Temple's first Junior Choir and a few years later established our Teen Choir, the Cantor's Chanters. Both choirs help to lead Shabbat services and High Holy Day Services each year.
The Rabbi, Directors of Education and I also began a Tiny Tot Shabbat program once a month for children just born through 3 years old.
What does being a Cantor mean to you?
The most important aspect of being a Cantor to me is being a conduit in helping people connect to their Jewish identities. I am so grateful to be in a position that allows me to engage our community in Jewish rituals and customs at every stage of their lives. I love being a teacher and having the opportunity to teach a myriad of subjects to people that range from children just born to centenarians. I love how much I have learned from the wisdom and guidance of my clergy partner and mentor, Rabbi Zachary Shapiro and how we are able to make an impact in the lives of our congregants and how much of a profound impact they have made in our lives. I love how we are able to help our congregants through periods of great joy and great sorrow and everything in between.
And most importantly, being a Cantor to me means being the keeper of our rich tradition of Jewish music. I still can't believe that I get to sing for a living! 
What do you do for fun?
I love relaxing with my husband Michael and two daughters, Indee Rose (8) and Meleena (5). We love to watch movies, bake and go to Disneyland together. I love musical theater and try and see as many shows that come to Los Angeles as possible. One of my greatest joys has always been sitting around the piano and singing with my dad. Now I have the privilege of doing the same with my daughters!